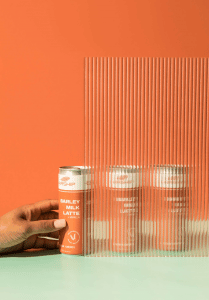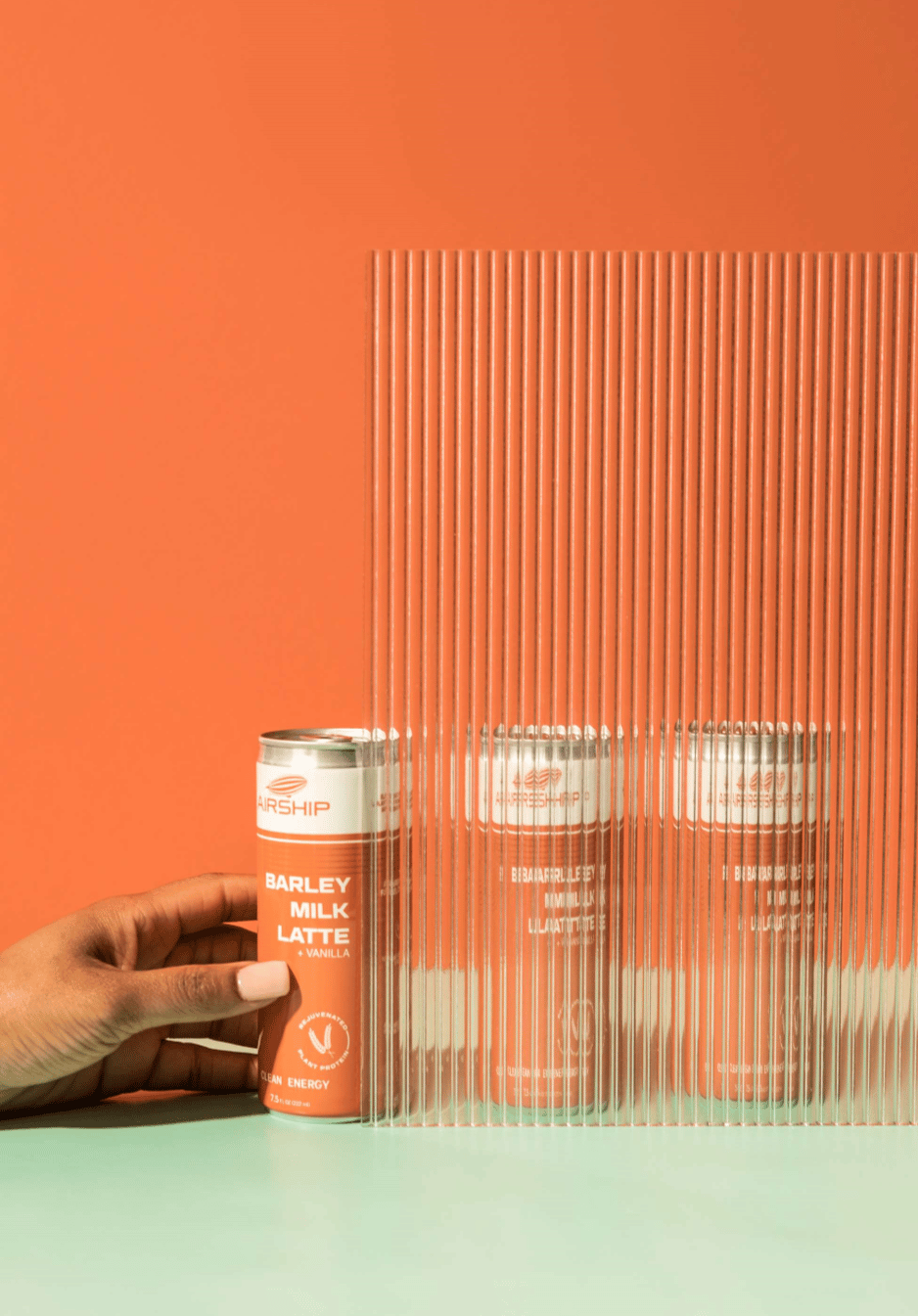 Airship's newest innovation: cold-brewed barley milk latte
Airship's journey began in 2008 with a roasting business, born out of a passion for sustainable agriculture and the coffee-growing communities of Central America. It was in Honduras and Guatemala that Mark Bray (MSc, Horticulture), co-founder Airship Coffee, fell in love: from growing, post-harvest processing and roasting through cupping, Mark unearthed the complexities of building a coffee supply chain from tree to cup. From there he began developing the rich relationships that are still present in their business today, more than ten years later.
Nestled in the shaded neighborhoods and woods of Bentonville, Arkansas, Airship's business now spans a roastery, two coffee bars, retail sales, a wholesale division for beans and café supplies and, most recently, a foray into canned beverages. With a vision to give more to the world than they take away, Airship's spirit of eco-conscious innovation and dedication to the world's remaining quiet spaces led to a remarkable undertaking. The story of the world's first barley milk latte began in Airship's workshop, travelling through Walmart's shelves into the hands of consumers seeking out lower sugar, planet-friendly coffee drinks.
To hear more about how Mark and his team stumbled upon a new, sustainable plant protein ingredient that led to the creation of Airship's barley milk latte, have a read of my interview with him.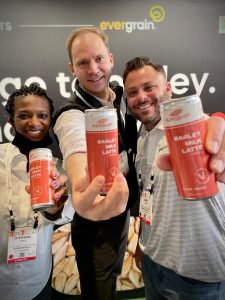 EverGrain's team showing off Airship's barley milk latte in Anaheim, California.
Jacqueline: what trends/dynamics in the marketplace today drove your decision to take the step from coffee roaster & café-owner to coffee beverage manufacturer?
Mark: we know our consumers are on the go, excited to be outdoors & to live their lives fully and deeply – just like we are at Airship. We wanted to meet our consumers in more of the places they are. Cue a coffee-forward, zero-sugar cold brew canned latte, conveniently packaged for life on the road, river, or trail. We created something that simply isn't costing people to put into their bodies – instead providing sustained, clean energy. There's a huge drive towards preserving health, especially coming out of a global pandemic. We already work with nootropics and ingredients that provide herbal antioxidant properties like ginseng, and the natural next step just felt like a nutritious, sustainably produced grain.
It doesn't hurt that cold brew is booming and the can packaging format provides an additional vehicle for innovation that is less bound by time and space. Coffee quality is on a timer, from the time it's harvested to when it's consumed various processes such as drying, roasting, and brewing determine the "life" of the product. Canned cold brew coffee just slows down the clock. It allows more freedom to experiment.
Jacqueline: barley milk latte doesn't exist in the market today – it's a completely novel product – how did you come up with the idea?
Mark: necessity is the mother of invention. We were less than a month out from our scheduled production of our Oatmilk Latte and had just lost our supplier to our key ingredient, oat milk. Here we were, after two years of building the supply chain, numerous formulation sessions, strategizing, making plans, running projections, and creating business plans. Here we were, being deprioritized to a larger customer that, our oat milk supplier informed us, needed the oat milk we'd already paid for more than we did.
My mind a-flurry with what to do next, I recalled a conversation with a friend from months prior – a conversation about camel's milk (long story). My friend assured me that camel's milk was not the move. So, I said, what's the next "alt milk"? He grinned and said, I'd be looking at brewers' spent grains.
Then I did what any good entrepreneur would do and searched the internet for ideas. While searching for alt milks made from spent barley, EverPro™ came up in the search results. I shared a link to their webpage with my business partner, and just like that, we made a hard pivot towards the latest and greatest alt milk on the market – and never looked back.
Jacqueline: what a story. Beyond the obvious challenge of time pressure in your specific case, what was the biggest challenge in doing something so completely new?
Mark: honestly, the barley milk play just felt so right. The fact that EverPro™ barley milk is made from upcycled grain which is in line with our consciousness and purpose as a company only serves to secure that feeling. We were so motivated to get it done – inclusive of redoing the work that was already done of the preceding two years. Perhaps one of the challenges we face now is to pace ourselves, especially when it comes to an innovation like this.
It takes time to pioneer new categories, to allow growth and expansion in their own time. We are always looking for the solve, and we feel like we found it. We don't want to pull the roots out of the ground before the first shoots sprout.
Jacqueline: what's unique about the product you're making vs. alt-milk coffee drinks available today?
Mark: we believe we can be that coffee brand that stays true to coffee and, at the same time, gives people a nudge. People are seeking something that is better for them and healthy. Our formulation has zero sugar. That's zero natural sugar and zero added sugar. We like to think of our barley milk latte as the 'coffee drinkers'' latte. It's a very coffee-forward beverage – cleaner and less sweet than most of what else is out there.
Ours is the first-ever cold brew latte on the market that is made with Upcycled™ Certified plant protein – rendering a sustainable, alternative milk made from spent barley grain, conveniently packaged for life on the go.
Jacqueline: how did partnerships – from seed to sip – shape your innovation experience? How did you get retailers to go along with you?
Mark: Our supply chain partners have been incredible. Far from holding us back, they've catapulted us into an accelerated innovation cycle that couldn't have gone better – all things considered.
Our co-packer was and continues to be a huge support – from testing, line trials, and bearing with us as we make changes to the formulation. Our EverPro™ barley protein supplier, EverGrain, essentially rescued us when our oat milk supplier stranded us – EverGrain's team's responsiveness and support in the provision of product, formulation guidance, and in providing unique product marketing opportunities far exceeded our expectations.
And on the key customer side, Walmart was with us all the way. I recall a conversation with our buyer at Walmart discussing the pivot to a barley milk latte with him. He told me that this move was exactly why he liked working with Airship because we're willing and able to make moves and provide value in taking on the risk of the next big trend. I deeply appreciate Walmart's trust, especially in the absence of any barley coffee category data available today.
Jacqueline: so, what's next for Airship?
Mark: we have a lot of fun projects in the hopper – we're just deciding which ones to go after. We do have plans to open our third coffee shop this year in our hometown of Bentonville, Arkansas. The building we're renovating has historical relevance – it's an old water treatment plant. This brings us full circle in not only offering 'rejuvenated plant protein' in our barley milk latte product but also in doing the same for the community in which we live and work.
Jacqueline: where can consumers find you & be first to try barley milk latte – both online, and in-store?
Mark: you can find us at Airship's local cafés, for purchase at airshipcoffee.com or in Walmart grocery stores throughout Arkansas.