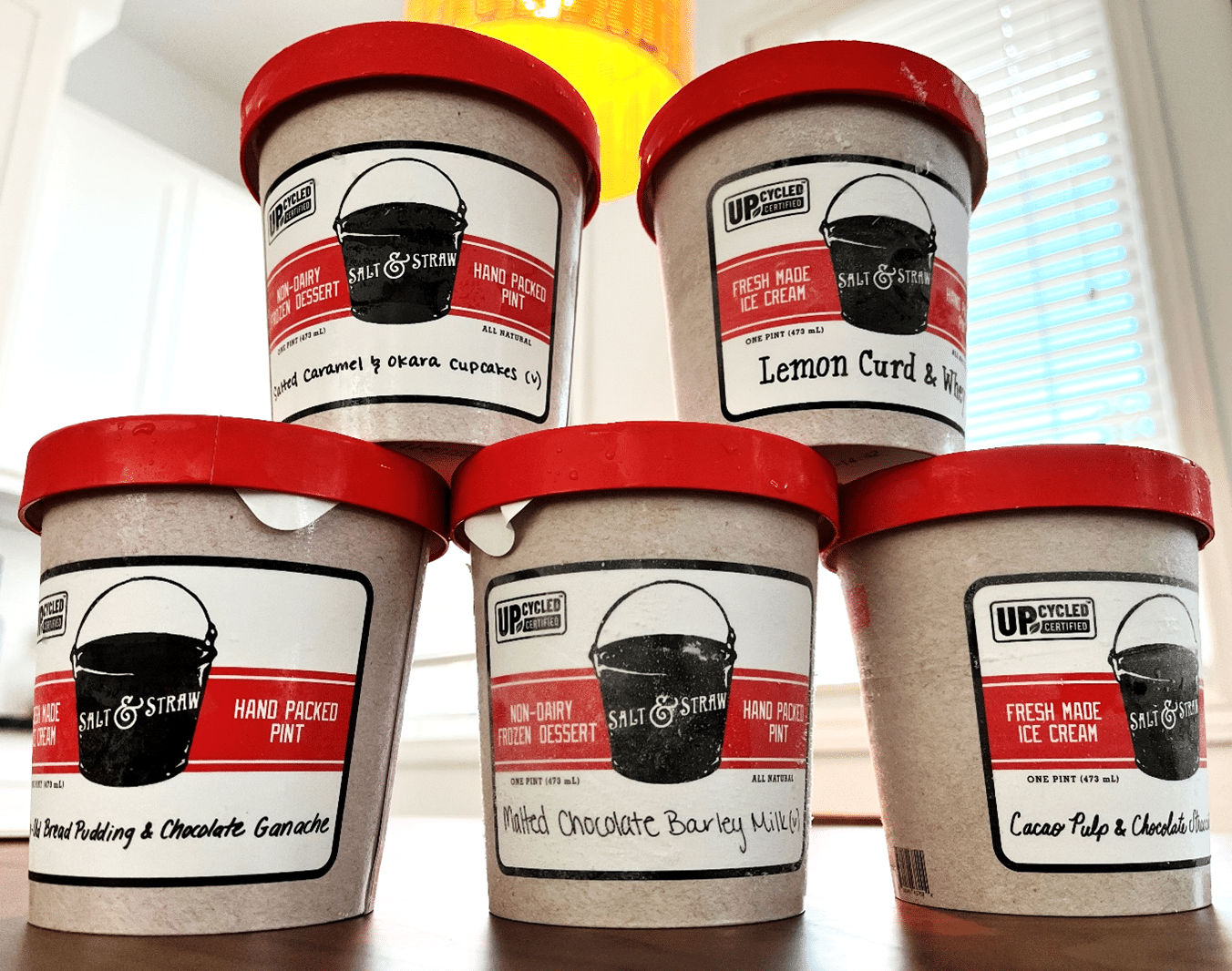 From an interview with Steve McCready, May 2023
The iconic Portland, Oregon-based ice cream brand, Salt & Straw, is all about creating moments of unexpected wonder. Its canvas: daringly delicious ice-cream and rotating menus that call for creative use of unique, local or curious ingredients. That's what drew Steve McCready, Senior Commercialization Specialist, to the family-run brand.
McCready has worked on any number of surprising yet delightful developments since joining on in 2021. Yet when he got the call on a menu development project that sought to prove reducing food loss or waste could make your tastebuds pop, McCready felt excited: "this could be super sexy in terms of leveling up [classical ice-cream with an] upcycled ice-cream menu", says McCready.
Several upcycled ingredients and finished goods rolled into McCready's kitchen, including EverGrain's EverPro® barley protein, Renewal Mill's okara flour and Spare Foods' spent whey, ready to be molded into frozen deliciousness. But creating moments of unexpected wonder isn't something that happens overnight. It takes time – expertise – an open mind. And comes with a wave of emotions.
McCready describes his interactions with EverGrain's upcycled barley protein as everything from "really cool" through "technically challenging". Nonetheless, McCready rolled up his sleeves and dug into recipe creation work.
The team discovered a number of hurdles initially – from color to texture and flavor. Pivotally, Steve adjusted his equipment's usual whipping and cooling settings to accommodate barley protein's low molecular weight, dialing up the frozen cool whip to hold onto air in a semi-frozen state.
Every good ice-cream begins with an even better base. McCready took twelve shots at a barley milk base – way above average – but says it was worth it. "[W]ithin the first iterations in our kitchen, we identified this as really unique – not just a little – but a lot. It's game changing for us. We leant in heavy on a barley milk ice cream", says McCready.
The result? Salt & Straw's very first vegan, non-sorbet ice-cream that's allergen-friendly and Upcycled Certified™. McCready identified barley milk's affinity for molasses and malt flavors early on – plucking memories of chocolate malt and sweet fig jam from his childhood. These, along with the cocoa, allowed McCready to overcome minor flavor challenges in their finished ice cream. "[EverPro has a] unique and distinct flavor profile. Rather than cover it up, find complementary flavor profiles", says McCready.
The ice-cream's fight against food waste with every delicious spoonful is simply the cherry on top. Salt & Straw had this incredible idea to bring like-minded brands together to show combatting food loss and climate change can be just a scoop of ice-cream away. It's a delicious awareness campaign that makes it easy for consumers to participate. Here at EverGrain, we're so excited to be part of it. 
Head to saltandstraw.com to buy your daringly delicious, upcycled ice-cream today! Only available for the month of June 2023.